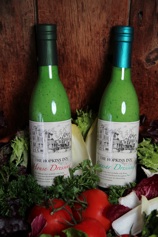 Saturday & Sunday | November 3rd & 4th | 11 am – 3 pm
Stop in to sample:
Hopkins Inn Salad Dressings – House | Caesar
All Hopkins Inn dressings are prepared in their own kitchen, ensuring both their freshness and the consistency of their flavor.
Bluewater Farms Cranberry Sauce – Just in time for Thanksgiving!
Fresh from the harvest, Bluewater Farms Whole Berry Cranberry Sauce is a deliciously simple addition to almost any dish.